Notice: This post contains affiliate links, and I will be compensated if you make a purchase after clicking on my links.
As a professional groomer, it is very important for me to explain to my clients not only why they should brush regularly, but HOW. It's unfortunate, but secretly many groomers complain endlessly that their customers aren't brushing their dogs deeply enough to the skin, so reluctantly have to shave them. I hate when that happens.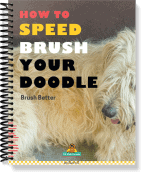 Take Back Control of Your Dog's Hair Now!
Ever feel like you brush your dog every day for hours and hours but your groomer thinks otherwise, then shaves your dog? My guide on "How to Speed Brush Your Doodle" will show you how to save time, "brush better" and avoid shave downs in just 5 easy steps. It's a game-changer! Get it Free for a limited time.
I think our customers may sometimes feel they should be better at even just brushing and it should be second nature. But it isn't natural. It's learned. It should be taught at young ages. 
I've explored reasons why I think they're doing it wrong with this post.
There is room for better instructions on how to groom,  an easier way that reduces the time and gives amazing results that any groomers would be proud of.  
Here's the story:
My friend Connie and I are pretty close. So close, that we have met twice a week at a local coffee shop for years. Until recently that is. She started canceling week after week. I know life gets busy but after a while, I started to take it personally. I hate confrontation, but I couldn't take it anymore! I was really convinced that she was upset with me so I finally let her know my thoughts. I waited with bated breath for her to explain what I had done that had made her so angry. Instead, I was met with confusion.
It turned out my friend Connie kept canceling our coffee appointments together over and over because she was spending a whole lot of time taking care of her new dog's hair.  She stated she hated the thought of going to her regular groomer only to be shamed and embarrassed because her dog was not in the shape she wanted. And Connie was terrified her groomer would yell at her and shave her beautiful dog to the skin!  
In tears, Connie said she was really trying her best. 
I realize that Connie isn't the only one in this predicament and I'm tired of looking around and seeing people brushing their dog's hair for hours and hours each week and not getting it as good or as fast.  It should never take more than a few minutes. (Note: unless the dog is severely matted).
I know that dogs and their hair can be a lot of work, and take a lot of time, so I've set out to find a remedy. 
I built it!!! The result is my popular K9K 1-2-3 Count Method. It goes like this:
Brush-brush-brush – then move to another spot 
Brush-brush-brush – then move to another spot 
1-2-3 move, 1-2-3 move, 1-2-3 move, 1-2-3 move, 1-2-3 move, 1-2-3 move 
Note: I always get the best results when the dog has a clean coat. If a clean coat isn't feasible at that moment then be sure to have a detangling spray handy. 
Why Count? 
Essentially, counting looks like, "jab, jab, jab".
When brushing 
Counting will prevent brush burns and accidental scrapes.
You're not wasting time staying in one place.
It allows you to be more thorough quicker, you're brushing one area 3 times.
With the right brush (Master Grooming Brush) you finish in no time.
You'll tackle and eliminate some minor mats in seconds, not hours.
By using a "pick-pick-pick" motion for only 3 times. Hold the hair up with one hand and stab-stab-stab until all the mats or tangles dislodge and all the hair is out of your hand. 
Gives you intentional and fast strokes that don't mess around and gets your job done in a flash with the right amount of weight. 
Calms your dog to be Less fussy. They become more tolerant and patient when you count and then move to another spot. It keeps them off guard so they don't know where you're going next. 
Here's what it looks like when you brush:
When trimming with straight scissors
Count when snipping with scissors. It keeps you from taking off too much at one time. It will also give you the chance to gauge and judge your work, allowing a pause before the next 3 snips. 
It allows you to concentrate your efforts in one place, which makes you more precise, and safer especially when a dog is moving around.
It helps you soften your strokes for safer scissoring. Scissor-scissor-scissor STOP, scissor – scissor – scissor STOP.
Ever wonder how groomers can hold their scissors in one place and make their scissors look like they're floating? The K9K 1-2-3 Count Method will strengthen your techniques. Guaranteed!
When using electric or battery-powered clippers or trimmers
Count so you won't prolong your "stay" and hurt your dog's privates from clipper burns. Only for the count of 3. Tap-tap-tap, 1-2-3, 1-2-3 then lift up your clippers and move to another spot. Gauge your results then start again if you need to. 1-2-3.  Repeat. I promise using this technique you won't hurt the dog!
If you're a novice at using and holding clippers, counting 1-2-3 will make you a pro!
When dematting with thinning scissors
Slice 3x in the middle of a mat or tangle 1-2-3; spray with detangler, then brush out.  The slicing is actually thinning the thickness in the knot, and thinners make the result look like the dog grew its hair that way, very natural. 
Make sure you have your "Thinning" scissors nearby when you are confronting mats. Start by holding the mat between your fingers, then snip-snip-snip (Count 1-2-3) right into the middle of the knot. Once you've made the snips go ahead and brush. And voila! The mats will be gone! No gouging a hole in the coat or nipping the ear needed. If you didn't quite get it, repeat. You shouldn't need to sweat or fret. The Count Method works for all grooming tasks. 
Slice through mats with thinning scissors – Be sure to use detangling spray and brush. It's the miracle you've been looking for for pesky mats around the neck. 
When combing
Why mess around combing for hours and hours using small combs with tiny teeth? 
Instead try using the professional larger, longer comb with wider teeth, and a detangling spray.  Get those ears combed out in seconds. If the comb meets a tangle or there is a mat that's difficult, get out the thinning scissors, slice-slice-slice (1-2-3) then brush or comb the knot out. These combs have the best of both worlds! Wide teeth and smaller teeth. The length of the comb may scare you because they are professional grade, but why groom like an amateur? With use, you'll get used to the size, convenience, and benefits!
Count 1-2-3 and finish combing in no time!
Sample comb here:

---
Click and get a FREE infographic to tape on the wall of your grooming station!
If you are interested in many more grooming tips for every phase of the grooming process, that your groomer probably doesn't want you to know about, check out my ebook 32+Grooming Hacks e-book. Click the link to purchase! 
Count 1-2-3 and you'll be the fastest groomer, brusher, trimmer, or clipper in your household or shop!
Notice: "I was compensated for this post. This post also contains affiliate links, and I will be compensated if you make a purchase after clicking on my links."