The Beginner's Guide to Do-It-Yourself dog grooming will discuss why it's important for dog parents to learn to groom their dogs themselves. First, there is a shortage of dog groomers.  
More and more people are adopting dogs that WILL need a groomer at some point in their lives. In particular, the "Doodle" type dogs who have hair that waves, curls, knots, naps, and fuzzes; the type of hair that most parents have no idea how to deal with.
As a person with "doodle" hair myself, I understand what it takes to make overly curly hair look good. I promise to share my expertise on how to approach it from hair cuts to baths and nail clipping. It's imperative to have some grooming skills. The knowledge will allow you to, at the very least, care for the hair between professional groomings or in case of emergencies.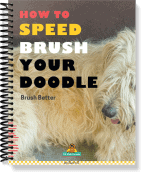 Take Back Control of Your Dog's Hair Now!
Ever feel like you brush your dog every day for hours and hours but your groomer thinks otherwise, then shaves your dog? My guide on "How to Speed Brush Your Doodle" will show you how to save time, "brush better" and avoid shave downs in just 5 easy steps. It's a game-changer! Get it Free for a limited time.
"This post contains affiliate links, which means I receive a small commission, at no extra cost to you, if you make a purchase using this link. Please see my disclosure and disclaimer page for more details."
The need for the groomers
Sixty-seven percent of U.S. households, or about 85 million families, own a pet, according to the 2019-2020 National Pet Owners Survey conducted by the American Pet Products Association (APPA). Up 56 percent of U.S. households in 1988, the first year the survey was conducted.  ASPCA data on shelter intakes and adoptions
With every breed under the sun mixing with the Poodle. They're going to need groomers and fast! 
According to the Paragon School of Pet Grooming, of Jenning, Michigan, a well-respected dog grooming school, this shortage "this is nothing new. It's always been a problem" which is why many owners, establish their own schools to supply their salons. It costs money and may not be accessible.
Mobile groomers are overwhelmed with business and are harder to find because they only groom a few dogs per day.
Grooming in a salon is tough work and demands physical and emotional dedication, for not a lot of pay, and where burn-out can take a toll very quickly. Turnover is very high so you may not get the same groomer each time.
Everyone should learn – don't you think?
It is essential for all dogs to get regular grooming in my opinion. But since there are many more dogs than groomers more people should be trained to do what I do. This blog is the next best thing for advice, tips, and lessons to:
keep you from having to have your dog shaved due to neglectful matting
to help you maintain a groom for at least two weeks
and show you what you can do yourself with just a few tools, products, elbow grease and patience
What is home grooming?
Home grooming is about helping your pet maintain good health by you bathing, brushing, combing, clipping hair and nails, and feeding them proper nutrition. Our dogs and cats have needs that go beyond brushing. This blog will teach you what else you can do to keep them happy and healthy.
4 common grooming misconceptions
Grooming is not only about the show perfect hairstyle. This blog will cover fast and easy bathing, drying, clipping, nail trims, products, and tools. It will not include intricate breed styles that will require more skills and training. I will teach you how to use clippers for basic pet grooming styles versus, breed-specific and intricate "show-type" styles.
#1 – Every matted dog needs to be shaved to the skin.
NOT EVERY DOG. Some deeply matted dogs that have "felted" hair where the strands have melded together so much that it looks like one piece. Learn why matting happens and what to do to avoid "shave-downs". There are professional tricks to keeping more hair on the dog.
#2 – You need to spend a lot of money on drawersful of tools to groom at home
There are some essential tools, and so is the right technique. For example, I recommend a slicker brush, three types of metal combs, a good conditioner that adds oils to the skin and hair, a hairdryer, and tethering equipment, just to name a few. In subsequent posts, I will share specifics of what to use to easily groom with a limited number of tools, products, elbow grease and patience.
#3 -You need to go to school to learn how to groom.
Dog grooming has always been a "handed-down" skill, as a learn-by-watching education. I highly recommend attending a reputable professional grooming school where you learn technique, systems and breed standard styling. The school is the translation from the owner/trainer. In other words, everyone has a method handed to others. These are my ideas emanating from mistakes and fixing them and excelling in my business. 
You don't need to go to school. Dog grooming has always been a" handed-down" skill, as a learn-by-watching education and grooming schools are a relatively new idea. But because many grooming shops are so overwhelmed with dogs, time to apprentice new people is in short supply. In schools, you learn technique, systems and breed standard styling. They are private businesses and are perfect mirrors of the owner or trainer—still a handed-down skill.
I believe the consumer should have more access to professional grooming knowledge. But because those ideas and skills only get circulated only in professional circles, the consumer, in my opinion, is not privy to enough professional tools or techniques.
The dog grooming industry should follow the example of the human cosmetology industry. For example, consider women who color their hair themselves. Instead of going to a salon, they go to the store, get a box, and color at home. The cosmetology industry has "professional" products to color hair at home for remarkable results. I want to provide the same professional knowledge, skills, techniques, and products to the dog owner that wants to groom their dog.
#4 – Everyone should brush and groom their own dog
My clients do not want to groom their dogs, and that's ok, I love grooming! Grooming as a profession is becoming more and more popular. Finding a groomer to bathe for you is not difficult, thanks to corporations like PetsMart and Petco.
How to get started with DIY grooming
You need to have a clear understanding of the type of hair your dog has. This will dictate what products and techniques used to bathe, dry, trim, the dog. 
A willingness and desire to take the time to do it yourself
Learn about a few products and tools that can help you to achieve your aims for the dog's hair and skin, faster and better. Basic goals should be to:
Reduce mats (see FAQs below)
Alleviate dry skin
Keep nails at a reasonable length
Tips for Success
Learn to use the same tools and techniques professional dog groomers use.
No matter how much pampering groomers do, your dog will appreciate grooming from you more.
Practice makes perfect. 
You can still take your dog to the groomer for a breed-specific haircut. Just learn a couple of things to maintain their hair until the next appointment.
Remember, ALL dogs need to be groomed. Even short-haired dogs. 
Common FAQ About DIY Grooming
How do I keep my dog from matting?
How do I groom a dog's face?

Hold the dog's chin gently but firmly in your opposite hand. Take the heel of your hand to clean under the eyes, and across the bridge. Take the palm to clean the cheeks and close to the ears. Practice this, then squirt a little shampoo in your hands, rub them together and do all of the above. When you scissor or clip debris or trim the muzzle, you can also use this holding technique.

When you do grooming, do you go against the growth of hair?

Yes, you can, with a brush or comb. Going against the grain can help in trimming evenly. It does not hurt the dog.

Is it better to cut my dog's hair wet or dry?

It's better to cut dry hair and clean hair. Scissors will cut better and more evenly and won't get damaged. If you're short on time, try rinse-less shampoos that dry fast.

How do groomers keep dogs still? 

Proper tethering. The best tools are to have "grooming loops" (looped at one end and a clip on the other. Wrapped around the front chest of the dog and under one leg, versus around the neck. 

How do you groom a dog for beginners?

Start with the bath. The cleaner the dog, the better the results in clipping the hair, brushing and combing. The hair behaves better for you when it's clean. A clean dog will save your equipment. (Note: a severely matted dog (to the skin) needs proper attention in the bath. OR it may need professional help.) Acquiring the proper tools can set you up for better results. You'll learn about that here. 

What can I do about my dog's skin?

The skin reflects what's going on inside. I recommend dealing with skin issues from both inside and out. A vet and groomer can help tremendously. There are certified Pet Skin Estheticians you can consult that are monitored by vets. 

Why is my dog scratching so much and has no fleas?

See the above question and answer. Or go to Skin issues can be alleviated by working on them with a vet and a groomer using knowledge from both for the inside and out. 
In Conclusion
DIY dog grooming is a handy and necessary skill to have to maintain your dog's physical and emotional health. Therefore, having these skills can reduce unwanted results when you go to the groomers, like unnecessary "shave-downs." By learning to comb, brush, bathe and clip your dog's hair, you can avoid outside grooming disappointments. Be clear about your goals for your dog's hair, and understand the type of hair they have. These will dictate what tools and products will work. This understanding is paramount to excellent home grooming skills. The next part will go into How to Brush Like a Pro and what tools to use.
Was this blog useful for you? Please share it with your friends and families or leave a comment below. I'd really appreciate hearing from you. For more tips and tricks, subscribe to the newsletter or freebies turn to us to help you make a happier life for you and your pets.