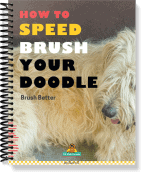 Take Back Control of Your Dog's Hair Now!
Ever feel like you brush your dog every day for hours and hours but your groomer thinks otherwise, then shaves your dog? My guide on "How to Speed Brush Your Doodle" will show you how to save time, "brush better" and avoid shave downs in just 5 easy steps. It's a game-changer! Get it Free for a limited time.
Is your dog suffering from allergies? At K9 Kids as a groomer, I see my client's pets at least 12 times a year, whereas, vets may only see pet's one to 2 times. Most times I am the first to see lumps, bumps, or infections before parents do. So when I come upon issues that need a parent's attention, I will try to find a home remedy in my bag of solutions and will recommend those closest to nature. Sometimes homemade pays off, and sometimes a vet's expertise is needed.
For the do-it-your-selfer, there are many choices out there that offer good health considerations for your K9 kid.  Raw and home-cooked food, liquids, pills, and gadgets. I have not tried all of them, but I have experimented with many natural and homemade remedies that work wonderfully without the costs and stress on either myself or my kids.  There is relief for your dog's allergy symptoms. 
 I FOUND A LONG-RANGE SOLUTION
In my search for answers for itchy dogs and a whole host of other skin, hair, ear, or joint problems , a colleague told me about Nuvet Labs, which makes Nuvet Plus Canine Supplements. Nuvet Labs knows that a major cause of poor health in our beloved pets is the lack of proper nutrition in their diets, so they developed products made to support the immune system. This stuff works and actually gives natural relief from dog allergies.  Here are my own experiences with the supplements
JEDI AND ROSY – Itching and Yeast Infection-CURED
(names changed to protect the innocent) both Cocker Spaniels.  Each with different coats, but both itchy, itchy, itchy. The dogs had been on steroids and antibiotics and who knows what else, yet still scratching all the time. Jedi had a terrible sticky, yeasty, oozing and smelly infection on his hips. Rosy had thinning hair and crusty skin on her inside legs and chest.  Within a couple of months, both stopped itching, yeast subsided and, thinning areas and skin healed to normal. After 4 years these dogs are still on Nuvet to maintain not only healthy skin but stronger vital organs for the rest of their lives.
TEDDY – Hair Discoloration – CURED
Teddy, a doodle had all white poodle-ley kind of hair. I'd been his groomer every 4 weeks for 4 about years at that time, when I noticed a small patch on his back turning a golden orange color. The texture of the hair was even different and would come out if pulled on.  It almost looked like the golden retriever part of Teddy was trying to get out on his back. As per usual for me, I looked for a solution from my many natural references. 
So I suggested Nuvet Plus K9 Wafers and gave my human client a packet of samples.  They tried the samples and ordered a bottle of 90 from Nuvet. In a few weeks, the tan areas on his back began to decrease. More and more the golden-colored retriever hair gave way to Teddy's natural white hair.  I was even amazed. I took the photos you see here.
DIXIE – Dry Skin – CURED
Dixie a tiny, teacup poodle, had very dry skin. As long as I had been grooming her, she was iron-gray in color. But then I noticed her hair turning silver.  Her legs and body just whitened. Again I suggested her parents try Nuvet Plus after my experience with Teddy. So in what seemed to be a short time, Dixie's coat went back to its iron-gray. 
MORE TESTIMONIALS:
· Drying of watery tearing eyes (my dog Dory)
· Shiny coats (Poo, Dory, Zoey)
· Healthy appetites (All of my dogs)
· More energy, no eye drool.  (Poo, 14 y.o. – also using NuJoint Supplements for arthritis)

· Mole disappeared from over her left eye  (Cinnamon)

· Small growth on tummy – Drying up (Spencer)
Itching from allergies – (Calvin)
USING AND RECOMMENDING SINCE 2005
I've known about NuVet Plus K-9 Wafers since 2005 and had been using them and recommending them all this time for all kinds of ailments  like allergies that appear as yeast infections, hot spots, tearing eyes, tear stains, or lack of appetite, tumors; all happening to my clients and my own dogs.  The NuVet company supplied my company with small sample packets of NuVet Plus wafers, which allowed my customers a chance to smell, touch and taste (if they wanted to) try before buying. I've handed out hundreds over the years, so this time was no different. 
NUVET PLUS FOR CANINES & FELINES HEALS, PROTECTS AND STRENGTHENS
It can heal and prevents dis-ease from the inside out. It works for all ages, breeds and pregnant females. Large wafers easy to split or pulverizes so they're easy to give it because it smells like FOOD, not medicine.
It's a safe and natural supplement.  
Vet recommended
100%Human grade, 
Made in the USA FDA registered laboratory
Nature-made, contains no fillers, no artificial flavors 
60-DAY 100% satisfaction guarantee. If you aren't completely satisfied with NuVet Plus, will gladly give you a refund. 
More than 4 million bottles used since 1997
WHAT'S IN IT?
Blue-Green Algae, Brewer's Yeast, Cat's Claw, Evening Primrose Oil, Shark Cartilage, Oyster Shell, Alpha Amylase, Beta Carotene, Pine Bark, Papain, L Methionine, Alfalfa, Chicken Liver, Vitamin B1 (Thiamin), Vitamin B2 (Riboflavin), Vitamin B3 (Niacin), Vitamin B5 (Pantothenic Acid), Vitamin B6 (Pyridoxine), Vitamin B12, Vitamin D, Vitamin K, Manganese, Magnesium, Iron, Copper, Amino Acids (Tryptophan, Threonine, Isoleucine, Leucine, Lysine, Methionine, Cystine, Phenylalanine, Tyrosine, Valine, Arginine, Histidine, Alanine, Aspartic Acid, Glutamic Acid, Glycine).
CONCLUSION:
Nuvet will also address: ALLERGIES  – ITCHING AND SCRATCHING-   HOT SPOTS – ARTHRITIS –   DIGESTIVE ISSUES – HAIR LOSS   – LOW ENERGY-   SHEDDING   – EAR AND OTHER INFECTIONS, TEAR STAINING AND MUCH, MORE. It's also left up to your own imagination in how and when to use these supplements. Try them today and see what they can do for your K9 Kids! 60-day money-back guarantee if you're not satisfied.
TO ORDER Call – 1-800-474-7044  OR order online at www.Nuvet.com Use Order Code: 82317
Professional Groomers' Ask about NuVet's Selected Pet Professional Program!
Note: *This post contains affiliate links. I may make a small commission if you purchase using one of these links. As always, I only recommend products I use + love!