I was introduced to vacuum clipping in my early days of grooming. It vacuums hair while clipping and loose hair is sucked through the hose into the metal cabinet. At the time, I was afraid to spend "that kind of money" on an instrument for grooming at a time when I was only 1 year or so into the new to me world of grooming. $500 then, now $1100. It was the Clipper Vac® vacuum clipping system. It came with a video of all the fabulous things you can do with it, from trimming to shaving to texturizing to how to keep at least 2 inches of the coat and to clipper vac the mats off. It took me years to get really good at using it because mostly I was afraid to make mistakes using it and at the time, it hurt my wrist.
These days, I would never ever be without it! I highly recommend getting one especially if you want to groom 2 or more dogs in your household pack. I will write about tips for using this gem in a later post.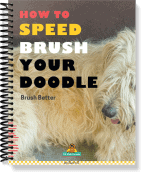 Take Back Control of Your Dog's Hair Now!
Ever feel like you brush your dog every day for hours and hours but your groomer thinks otherwise, then shaves your dog? My guide on "How to Speed Brush Your Doodle" will show you how to save time, "brush better" and avoid shave downs in just 5 easy steps. It's a game-changer! Get it Free for a limited time.
Electric or battery-operated clippers hook up to a long hose. A hose that can get in the way but I have discovered an easier way to hold the clippers and maneuver in all directions. If I shake hands with the clippers, or in a fist, with my thumb under the regulator, I'm able to take the strain off my hands and wrist.
A couple of months ago I learned about the Neabot Pet Grooming Kit P1 Pro on a Facebook post where the people there desired to groom their dogs and did so by using the Neabot. I had to try it to see if it worked as well as the Clippervac®. It doesn't, but the Neabot is really great for newbies to groom at home without the mess and the learning curve. They do the same thing, they suck hair while you clip.
The Neabot Pet Grooming Kit P1 Pro – the affordable, light vacuum clipper system you NEED to groom your dog at home without the hair mess.
This system uses patented technology to vacuum up your dog's hair while you clip, making for a much quicker and easier grooming experience with no mess.
In just 15 minutes, you can have your dog looking great with no scissors required – except for maybe thinning scissors to trim out the occasional mat on the ear.
So if you're looking for a fast, easy, and mess-free way to groom your dog, look no further than the Neabot !
How it works
It "sucks up" hair into a canister while you clip, brush, or deshed. The suction pulls hair upward thru a vibrating metal blade and cuts the hair.
In just 15 minutes, you can have your dog looking great with no scissors required. I can teach you how to quickly clip without using scissors!
The pros and cons of using the
Pros
Less effort to clip thick or thin-haired dogs
The metal blade stays cool, with less friction and wear and tear on the blade and sharpening less often.
Use it to dislodge matting at least 1/4″ away from the skin. The blade guard then floats under the mat as it's being sucked off the top.
It can be used instead of scissors to clip the dog all over when you follow my tips and tricks!
Easily trim ears, tails, around the feet, and foot pads where you'll get a clean cut without injuring the pad.
Cuts hair fast
Easy for seniors to use without a lot of effort or for the inexperienced DIY'er.
It has an easy-to-empty canister that whips up the hair into a ball, making it a breeze to throw in the compost bin.
Affordable for anyone who's ever thought to get out the kitchen scissors to trim their dog's hair.
You get 4 other attachments for other kinds of grooming tasks.
In addition, this is great for seniors who want to groom their dogs because it's small, easy to handle and compact.
Can be used on damp hair, although could dull the blade if hair is too wet.
Cons
Some people didn't like that it was not as quiet as they thought it would be.
The sound may scare some dogs at first but they get used to it quickly.
You have to keep the small canister emptied often or it will overheat.
It does not yet clip the hair neat like a professional can do it. If you want a professional look hire one or don't expect perfection… But it cuts hair fast.
Not sure how many times you can clip with this before it breaks down. You will need to order replacement blades and filters.
You may need to have regular electric or battery-powered clippers handy to clean up clipped areas.
I do not recommend it for super short haircuts. It cuts very, very short without the guard on it. There are other ways to get it short without using the 1.2mm metal blade on your dog's skin.
Tips for using the Neabot:
I recommend following the instructions included to set up. Then Use the K9 Kids Tips for a Puppy Clip on any dog.
When changing blade guards*, no need to pull out the hose to stop the clippers from running, just slip the guard over the tip of the blade and snap down at the back of the blade- While it's running.
If you need to change the metal blade length, just slide the button up or down, even while clippers are running.
You can change motor speeds for faster or slower clipping by pressing the lighted button on the machine up to 4 times. I didn't find this to make much of a difference in how fast the blade was going. It has less noise and wear and tear on the motor if the speed is kept lower. I'm all about speed, so I use the fastest speed where both lights are on.
Be sure to oil the metal blades as often as the instructions require. You'll have your machine for a long time and the metal blades will stay sharper.
What the Neabot comes with:
Clipper combs (aka blade guard, clipper guard, clipper attachments, cutting guards, guide combs, snap-on combs) come with the Neabot including these sizes:

6mm= 1/4″
12mm = 1/2″
18mm= 3/4′
24 mm = 1 inch.
And has:
1.2mm metal blade (which leaves 3/64 inches or approximately what a # 15 metal blade length would leave. Meant to be used only with the Neabot plastic blade guard or for foot pads ONLY.
1.6mm metal blade leaves 1/16″ or approximately #10 metal blade length. Used for sanitary areas, face, and foot pads.
Also comes with:
Hepa filter, sponge filter, and wind cover (allows more suction, possibly making clipped hair less or more texturized or smoother-looking.
4 Attachments plus
a slicker brush that sucks excess hair while you brush and that's self-cleaning. So you won't have to stop and clean it
a deshedding comb
a brush to vacuum the hair off clothes or furniture
a needle-nose nozzle for tight area vacuuming as well as the clippers
a bag to store the attachments.
GET THE NEABOT HERE—- HURRY IT MIGHT BE ON SALE!!!
Why I like it
-I've used a Clippervac® for 16 years and found many time-saving techniques using it. I currently do almost all of my hair clipping using it while inserting and removing #30, #40, #10, #7 metal blades along with every size of clipper guard*
-It's less cumbersome and much lighter to hold. Easier to maneuver.
-I don't have to switch blades
-The Neabot does not produce so much heat that it warms the room and is not as noisy.
-I can do many of the same things I can do with Neabot as I can with the Clippervac tote®.
–I can groom a dog and not even pick up scissors.
Conclusion:
The Neabot is a versatile grooming tool that can save you time and money. It's easy to use and comes with a variety of attachments to make grooming your dog a breeze. While it's not durable as some other pet clippers on the market, it's still a great choice for those looking for an affordable and easy-to-use pet clipper that gets the job done fast. If you're looking for pro results, learn to use the Clipper Vac or hire a professional groomer who uses a vacuum clipper set.
I hope you found this review helpful. If you have any questions, please feel free to leave a comment below and I will be happy to answer them.
Happy clipping! 🙂
Have you ever used a Neabot pet clipper? What was your experience? Leave a comment below and let us know.​
Looking for more pet grooming tips and reviews? Check out the Pet Grooming section of our blog for more great content.​
Thanks for reading!
*(aka blade guard, clipper guard, clipper attachments, cutting guards, guide combs, snap-on combs)
Note: *This post may contain affiliate links. I may make a small commission if you purchase using one of these links. As always, I only recommend products I use + love or have researched and have considered what would make the best choice for you!
Disclaimer- These recommendations are not meant to replace medical care or diagnostics of a licensed veterinarian; nor are recommendations meant to replace behavior training of a professional or licensed Dog trainer from an accredited behavior establishment or school. The K9 Kids Company accepts no responsibility or liabilities resulting from the improper or inappropriate use of their recommendations.