For those of who need a visual demonstration of brushing correctly, take a look at the video below from Dog's Own Grooming School, Loveland, CO.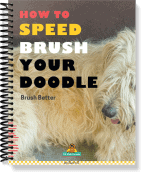 Take Back Control of Your Dog's Hair Now!
Ever feel like you brush your dog every day for hours and hours but your groomer thinks otherwise, then shaves your dog? My guide on "How to Speed Brush Your Doodle" will show you how to save time, "brush better" and avoid shave downs in just 5 easy steps. It's a game-changer! Get it Free for a limited time.
Another approach to Brushing – PRINTED INSTRUCTIONS