Dogs and cats are the most popular pets in America. According to the American Veterinary Medical Association, 36.5% of households have a dog, and 30.4% of households have a cat. Where we live in Colorado, 42.5% of 2.8 million households have dogs, almost 1.35 million dogs.
I'm so grateful to have a business that allows me to indulge MY fanaticism of dogs and make a good living. I am a dog groomer/stylist and I LOVE WHAT I DO!!! The work I do is in higher and higher demand as more and more people learn that mobile grooming is a "real thing". There is no shortage of dogs to be groomed so my not being able to do them all gives me great stress. 
I wish I had the energy and time to groom every single dog from daily inquiries, but somewhere along this ride, I need to be realistic. I can't groom them all.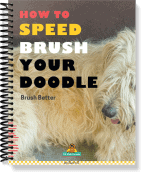 Take Back Control of Your Dog's Hair Now!
Ever feel like you brush your dog every day for hours and hours but your groomer thinks otherwise, then shaves your dog? My guide on "How to Speed Brush Your Doodle" will show you how to save time, "brush better" and avoid shave downs in just 5 easy steps. It's a game-changer! Get it Free for a limited time.
That brings up the purpose of this blog, my website, and my store. I want to duplicate my skills to share the knowledge I've gained and show you the techniques and grooming products I have used faithfully to do thousands of dogs for the last 17 years. This blog, The K9 Kids Fanatic is here to educate the k9 kid parents on:
What I do
How I do it
What I use
How to take less time
When to use 
And whom to use it on
It is possible for anyone to learn to groom your dog at home and get a professional finish using my systems and solutions.
Unfortunately, the choices of grooming tools like combs, brushes, clippers in the marketplace can be too confusing especially when there's no explanation on how to use them. Though there are tools for every type of hair, they still elicit questions like, "Which brush will get through the mats on my dog? Do I really need a comb? Is there anything that will stop my dog from itching?"
Hot new tools have been introduced on Facebook that look to be very exciting and could be an answer to a prayer. I almost can't wait to try them out myself. There are many power-operated machines, pools, nozzles, nail polishers, electronic flea combs, etc; I will review many of the gadgets I've tried myself and report them to my readers here on the blog. 
I am here to teach everyday people how to advance their basic home-grooming skills. Everyone can get better with instructions. For example, a chainsaw can be used by a professional or non-professional. Both want to get professional results from using "that" chainsaw. Both can, with instruction and practice.
The general public can be taught how to use professional-grade tools and products- The Home Depot tool Dept is proof!
We need more groomers in the marketplace to service all the dogs. There is a shortage of "good" groomers everywhere. Groom shops are always on the lookout for good groomers with good skills and good attitudes, but turnover still remains high and can be a problem for the many new clients needing and looking for the services. Groom schools are churning out groomers, but there aren't that many schools. Houston, we've got a problem… there just aren't enough groomers. So, with increasing popularity for dogs in human lives, the problem of not being able to find a servicer will only get worse.
With this blog I hope to encourage more people to learn basic groom skills at home. And out of the DIYers, will be those who want to improve skills by attending a grooming school, opening a shop in their town, volunteer at a shelter or buy a van and become a mobile groomer. When I began grooming in 2002, I often said that when I retire I wanted to teach dog grooming at a community college. This blog is the closest to doing that.
I started this blog to empower YOU with tips and tricks to take care of your K-9 friends when your favorite groomer is not available. I will share – recipes, realizations, and money-saving advice from the perspectives of the:
Pet parent
Dog trainer
Dog groomer and
Multiple-dog-family mom.
I have more than 17 years as a dog groomer stylist, a K9 Kid Fanatic – a certified dog trainer, solution-finder, researcher and developer, a tester, an experimenter for all kinds of ways to help animals; I want to share what I've learned to help parents of k9 kids to save time, and energy by showing you how to simplify home grooming, training, and care for their dogs.
You will learn how to tackle most things "DOG" with ease like a Pro while keeping safety, and speed in mind for you and the kid.
Here are some of the categories and topics you can look forward to in future posts:
From the Groomers
How to Bathe Like a Pro
What is soap and How does it work
Must-Have Tools
De-Shed the Right Way
Remedies for Warts and Growths
From the Trainer
How to Get Your Dog to Respond to You
How to Alphabetize yourself
You Can Teach Your dog Etiquette
Training All the Time
The Psychology of Dog Behavior
From the Multi-dog Household Mom:
What we won't do for dogs
Fostering Can Be Dangerous 
Dog Ware
Toys and Equipment
Tools and Products
Reviews and Chews
From the K9 Kids Kitchen:
Recipes – A few I've actually tried and some I have not
Nutrition – how to get a shiny coat
Food Reviews and Recommendations
And of course my opinion on grooming gadgets I've tried. 
I love my k-9 parents, my k-9 clients! And if repeat business is any indication, they love me and my work too! But, sadly, I can't groom them all. I have more work than one person can reasonably handle and I get calls every single day of the week for new clients… I WANT TO TAKE THEM ALL!
Let me show you how you can get great results just like the pros!