If you have multiple dogs or any physical limitations then bathing your dog at home can be time-consuming and physically exhausting. It's easy to feel like it's just too difficult and that you're stuck spending a small fortune at the groomer's every time your pup needs to be cleaned.
That's why I'm passionate about the K9 Kids at-home bathing machine. It will save your back, sanity, and your bank account!
The recirculating water bath machine is the only way to bathe a dog. This machine powers shampoo and water through the thickest coats and removes all of that dirt, bacteria, and shedding fur you can't get to with your hands. When using this machine, every inch of skin gets scrubbed clean, so your pet will get and stay cleaner longer.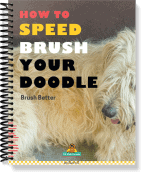 Take Back Control of Your Dog's Hair Now!
Ever feel like you brush your dog every day for hours and hours but your groomer thinks otherwise, then shaves your dog? My guide on "How to Speed Brush Your Doodle" will show you how to save time, "brush better" and avoid shave downs in just 5 easy steps. It's a game-changer! Get it Free for a limited time.
If you're bathing by hand, you can hit and miss spots. And if you're trying to conserve on shampoo, you're probably not getting it between the strands where bacteria live. Bacteria gets trapped in the clumps of dog hair can begin to smell if it stays there. Dirt and leftover oil in the hair are more prone to matting.
Bathing by hand works if your pet has short hair. But to get long and medium length-haired or very large-sized dogs as clean as possible, be sure to use lots of shampoo (a whole bottle) and a whole lot of elbow grease!
What is a recirculating pump and how does it work?
The dog bathing machine is a self-contained pump that circulates enough soapy, clean water through the system for one full cycle of cleaning before pumping it out again. An adjustable flow knob sends a strong flow of water and soap into the coat and onto the skin.
This saves you time while bathing your dog because you clean the coat from the skin every few seconds or minutes.
Soap or shampoo works to clean by dirt molecules attaching to each other that thereby gets rinsed away.
A recirculating pump is more efficient than a standard household faucet because it pumps with pressure, creating bubbles that work better to clean and rinse dirt away from the dog's coat. Think "pressure washer".
The pump's small size means you can bathe your pet in a sink, a pool, shower stall, tub, or at any location where you can maintain a small pool of water and not have it go directly down the drain.
Why you should use a recirculating pump for bathing your dog instead
This machine is more efficient than bathing by hand because it does the work for you while your hands are free to do other tasks, like hold the dog or calm them down. Most people consider that a time-saver, but also consider these other benefits:
Blasts off dead skin and skin oils.
Begins the cleaning process without using your hands – gets the shampoo working on dirt molecules. Works like a car wash!
Allows for "TRIPLE washing" with less work.
Can loosen matting.
Saves money on shampoo because it reuses it.
Saves water – recirculates water that's already in the tub.
Saves time – you don't have to pick up the shampoo bottle a million times, pouring it into your hand to spread it.
Saves the environment – using less water.
Purchase a K9 Kids BathTime Machine in the K9 Kids Shop here. Dogs require extra cleaning in the spring so I'll have it on sale often throughout that time of year. Grab it at the discounted price while you can!
Guide To Using A Recirculating Bath Machine For A Triple Wash
Use these 5 steps to triple wash with the machine to bathe your dog for pro results, leaving the coat squeaky clean and smelling great for up to 2 weeks!
Step 1:
Prep your space, towels, shampoo, and machine.
Cover the machine with a hair shield (knee-high stocking works well). This prevents hair and dead skin cells from circulating thru the machine.
Set the machine in the tub.
Step 2: 1st Wash- the machine does it
Plug the bathtub drain.
Fill the tub with 1-2 inches of cozy warm water.
Place the dog in the tub secured with a leash or grooming loop.
Squirt a little shampoo into the tub – until you see a few bubbles.
Plugin the machine to start OR
Press the remote pedal to start the machine(standard with the K9 Kids BathTime Machine).
If you can, work on one side of the dog at a time, the side closest to you then spin the dog around to get the opposite side.
Begin with the back leg and aim for the skin, then proceed with the rest of the body and legs (it's less startling for the dog on the back leg).
Adjust the flow of the nozzle open or tone it down.
FOR BEST RESULTS: Hold the Machine's nozzle close to the skin, going in circles.
Step 3: 2nd Wash – you do it.
Take a shampoo bottle with diluted shampoo in it and squirt shampoo all over the dog or apply undiluted shampoo in your hands and work it into the coat all over except the face and muzzle.
Rub the shampoo into the coat until bubbles and foam are made.
Scrub with your hands or a rubber scrubby to your heart's content.
When done scrubbing, Don't Drain The Tub Or Turn Off Machine.
Step 4: 3rd Wash -Machine does it
Use the machine that by now is circulating "dirty" water and use it on the dog AGAIN at this time. That's ok, we'll clean rinse in the following steps.
Step 5: Clean rinse
Drain the tub.
Add conditioner to the coat, let it sit for 3-5 minutes.
While you wait, shampoo the face, muzzle, eyebrows, and ears by hand.
Clean rinse the face of all shampoo.
Clean rinse the entire dog with fresh water.
Towel dry thoroughly or use a high-velocity animal dryer.
In 15 minutes or less you can shampoo 3 times!!
As a long-time professional groomer, I place the bath as the most important part of the grooming process. When the coat is half clean, almost clean, or not clean, it dictates how your dog will look in the end. Bathing by hand gives marginal results, but the recirculating water machine lets you really clean the coat and penetrate between strands of hair where bacteria can live.
Don't waste another day washing your pet in a bucket. Bathing dogs has never been easier than it is today. Use what the pros use at home to save time, money, and effort!
Purchase the K9K BathTime Machine here.