Just because you're brushing your dog doesn't mean you're really brushing. You're really just skimming the top and usually only what you see. I've identified 9 wrong ways to brush your dog. As a professional, and having x-ray vision, I can see deep into the coat. What I generally see much closer to the skin are knots, tangles, and mats. There are a plethora of stories from every groomer on the planet that rejects their client's "notions" that they brushed their dog. We just don't believe them! Sad.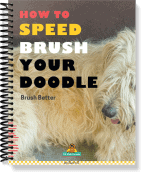 Take Back Control of Your Dog's Hair Now!
Ever feel like you brush your dog every day for hours and hours but your groomer thinks otherwise, then shaves your dog? My guide on "How to Speed Brush Your Doodle" will show you how to save time, "brush better" and avoid shave downs in just 5 easy steps. It's a game-changer! Get it Free for a limited time.
I really think many people just don't know how to deal with DOG HAIR. It's really different. Instead of being straight in all cases, it's wavy, curly, tangled, fuzzy, corded, matted, nappy and knotted. But I am here to help. So let's start with the wrong way to brush, then we'll concentrate on  correcting and problem-solving. 
Note: *This post contains affiliate links. I may make a small commission if you purchase using one of these links. As always, I only recommend products I use + love! Please read my Disclaimer Policies for more information.
What you're doing wrong
1. Having no clear picture of the end result
First, consider the end goal. Is it to smooth, soothe, detangle, or deshed? What type of hair does my dog have and why does it matter? Is my dog a medium-haired type, short hair, long hair or hairless? These answers will dictate the type of brush to use. 
2. Using a brush not made for your dog's coat type
Your dog's hair falls into one of 4 categories whether it be curly, straight, corded or double-coated. To look up your breeds type of hair go here.
COAT TYPES AND THE BEST BRUSHES
SHORT COATED – Curry brush, grooming glove or vegan bristle brush
MEDIUM HAIRED – Slicker brush
LONG – Slicker and/or pin brush
HAIRLESS DOGS – No brush!
3. Brushing a dry and dirty coat
Although sometimes it's necessary to break out the brush and get rid of unruly hairs, I am saying you'll get better results if the coat is relatively clean. It's easier to brush through, easier on the dog, and you will most likely achieve your aim. If you must brush in-between professional grooms or DIY baths, trying using a "detangling/ conditioning spray" that demats, doesn't leave a sticky residue, is anti-static and promises to make brushing easier. 
PRO TIP #1
If you're out of time and the coat is too dirty, try a rinseless or waterless shampoo or even corn starch which absorbs oils and dirt. All are excellent substitutes for the body or small areas, like feet, bums, heads, mouths. Be sure to dampen a wash cloth to apply waterless shampoo.  And just take a hand full of the cornstarch distributing all over.  
4. Brushing too hard or too softly
Professional groomers complain endlessly that the parents don't brush their dogs enough. From what I can see, most people really don't know how to brush or even deal with the kinds of hair their dogs have. Some are afraid to brush with a little firmness. They go over the top of only what they can see, resulting in a tepid attempt at brushing. In comes the wrath and laughs from the groomers at the shops! 🙂 Too firm, can result in "brush burns". 🙁
There's a faster, more efficient way to brush. You don't need to take an hour to brush if you use the K9 Kids'  1-2-3 Count Method. Download a free infographic explaining how to do this. Print it out and hang it up in the location where you brush!
5. Brushing when you should be "combing."
Maybe a brush is not the right tool. A plastic comb is a no-no and never works properly.  
PRO TIP #2
Get a metal comb. I suggest a Quartet of combs.
For the body, tail, and ears, a professional 10″ long greyhound comb with large and wide teeth at one end and smaller teeth on the other. This entire comb is bigger than you've ever seen but again covers more ground without a lot of effort. The greyhound comb is especially useful for double-coated dogs. By combing out stray and shedding hairs you get alerted to any mats hiding underneath the soft top part. Comb through lightly from the skin level out to the ends. Here's where to buy: The K9 Kids Cafe & Store!
A comb for smaller areas like the leg feathering, visor over the eyes, or for underarms.
A comb for face.  (4.5-inch metal comb or flea comb) Buy it here: Ryans Pet Supplies or a flea comb or in The K9 Kids Company Store.
A comb to keep gunk out from under eyes. Moisten with a washcloth with water, then scoop out with a flea or face comb!
6. Brushing in one spot over and over for too long
If you brush too much in one location you will give your dog "brush burn". Try it on your skin. It hurts and leaves a red and raw welt- a red, swollen mark left on flesh by pressure.
7. Not using a detangling/conditioning spray to make brushing easier. 
Conditioning spray is a miracle worker. It will soften the hairs by adding a layer of conditioner and will make brushing easier. I recommend these professional products only that are available online. 
8. Trying to brush through tight tangles or mats
A pair of barbershop thinning scissors will come in handy to slice through mats. Then lightly brush holding the knot in your hand and brushing it there. This will prevent brush burns on the dog. Use the K9K 1-2-3 Method™  to brush, slice into the middle of a mat 3 times, clip, clip, clip then brush out the mat. It's just what it sounds like, slice 3 times- clip, clip, clip 1-2-3, then brush out the mat. I repeat slice 3 times- clip, clip, clip then brush out the mat.  Brush 3x, 1-2-3 then move on to another spot, brush 3x, 1-2-3 brushing the knot out. Thinning scissors below:
9. You're using a tool that's too small or too large. 
Little combs really have no place on a large dog's body. Nor do little teeth combs work on really curly-coated hair. Wide-tooth combs are what's happening. I know, because I have super wavy, fuzzy, curly hair! Too big and you can't control the tool. Having a set of tools that actually work instead of a drawerful of tools will allow you to have everything you need when you need it. The K9 Kids Company Maintenance Kit coming soon!
Note: *This post contains affiliate links. I may make a small commission if you purchase using one of these links. As always, I only recommend products I use & love!  My aim is find and use professional products and tools made available to you at affordable prices. 
Summary
Brushing your dog is a good and necessary activity for a physically and emotionally healthier dog and home. So learning to brush the right way will achieve both. Using the K9 Kids Methods ™ and professional-grade combs and brushes, you will avoid injuries and get the job done quicker and achieve professional results. Save the heavy-grooming work for your groomer. You Got this!
Slash your brushing time. Use the K9K 1-2-3 Count Method! FREE PRINTABLE  HERE
Recommended professional  tools:
Large Slicker brush – The k9 Kids Company Store (coming soon)
Thinning scissors – Chewy.com Chewy.com or Ryan's Pet Supplies both have a variety of affordable thinners or any beauty supply store like Sally's Beauty Supply store will have these. No need to spend a ton of money, but something under $80-100 will clip through mats with less effort.
Recommended professional products: 
Conditioning sprays –
Stazko Dematting and Conditioning Spray (this is what I use regularly) – Chewy.com
Pek by Iv San Bernard –  Amazing stuff! Can be used in concentrate form on mats or mixed into a spray bottle with water. It makes dematting and fluffing extraordinarily easier. The collagen and proteins provide elasticity and softness to the pet's coat, returning it to the right moisture balance for easy and lasting handling.