Looking to make delicious dog treats for your senior dog right from the comfort of your home? Check out these three simple and fast dog treat recipes that are perfect for your senior dog.
Peanut Butter Carrot Treats
Jump to Recipe
Now, peanut butter isn't great just because of the flavor it gives to the treat, it also has a lot of nutritional value!
It's a great supply of fiber, proteins, and healthy fats. Plus, folic acid helps cell growth. It's also a good source of magnesium, which helps hormone functions and secretions, metabolic functions, proper nervous system transmissions, vitamin absorption and much more. All in all, it's a fantastic ingredient, as long as it is natural, unsalted, and unsweetened.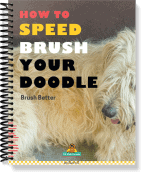 Take Back Control of Your Dog's Hair Now!
Ever feel like you brush your dog every day for hours and hours but your groomer thinks otherwise, then shaves your dog? My guide on "How to Speed Brush Your Doodle" will show you how to save time, "brush better" and avoid shave downs in just 5 easy steps. It's a game-changer! Get it Free for a limited time.
We all know by now that carrots are a tremendous source of vitamin A and that they are overall, good for you. But how do carrots help your dog?As long as you're not feeding your dogs an excess of carrots, which can become toxic, they are actually amazing! They are low calorie, help dogs have regular bowel movements, support eye health (which is particularly important for senior dogs), and they also strengthen the immune system.
This recipe has two key ingredients that are fantastic for dogs. But how do you make it?
Print
Peanut Butter Carrot Treats for Senior Dogs
The moment I read this recipe, I knew that it would make a great treat for senior dogs. The ingredients are things that you can easily find around your house:
Equipment
Dry & liquid measuring cups,

Measuring spoons

Cookie baking sheet

grater

roller

cookie cutters (optional)

parchment paper
Ingredients
1

cup

Natural Peanut Butter

3/4

cup

skim milk

1

large

egg

1

large

carrot

shredded

2 1/4

cup

wheat flour

1/3

cup

whole oats

1

teaspoon

baking powder
Instructions
Mix peanut butter, milk, egg, and shreaded carrot together

Add the flour, baking powder, and oats to the mixture. Dough should have a thick, heavy consistency.

Roll out the dough, cut it with some cookie cutters and set them on a tray lined with parchment paper.

Bake for 15 minutes at 325°F

Turn them over and bake them for 10 more minutes.
Jump to Recipe
If you'd like something more luxurious and expensive for your senior, then this recipe is for you and your dog! Just as soft as the previous treat, this is a recipe you can make with less than five ingredients.
Salmon is a pricey ingredient, but not without good reason. It is a fantastic food that you can spoil your dog with from time to time. It has omega-3 fatty acids, which support your dog's immune system, and it makes your dog's fur a lot healthier. Because it decreases skin irritations, it's great for dogs with skin allergies.
But beware! Excessive amounts of salmon are not healthy for your dog, and whenever you do give your dog some salmon, you must make sure it's cooked entirely, to avoid SPD (Salmon Poisoning Disease).
Sweet potatoes are a healthy source of carotenoids, vitamin C, vitamin A, antioxidants, potassium, fiber, magnesium, copper, and iron. How do all these things help your dog though? They actually do a whole lot of work at a cellular level, such as transporting oxygen and assisting in the assembly of proteins.
Print
Salmon and Sweet Potato Treats
Ingredients
1

can

Salmon

1

medium

sweet potato (baked)

2

large

eggs

1/3

cup

coconut flour

coconut oil to grease the pan
Instructions
Beat the eggs until fluffy

Mix in the coconut flour and the salmon and leave it for 10 minutes to rest.

Remove the skin of the sweet potato, mash it and add it to the mixture

Put the mixture in a greased mini muffin tin, leave in the oven for about an hour at a temperature of 325°F. And there you have it, some salmon and sweet potato dog treats!
Soft Pumpkin Treats
Jump to Recipe
Anytime is a wonderful time to celebrate the love of your pets with soft pumpkin treats for your pups.
Pumpkin is another ingredient that is delicious and has a lot of health benefits, for both cats and dogs. Being a great source of fiber, pumpkin puree can help your dog's digestive system. In fact, it helps with both constipation and diarrhea, and it also calms down an upset stomach! Isn't that just amazing?
Pumpkin is also great for weight loss. Raw or canned, it keeps your dog's stomach full, while being low in calories. Pumpkin seeds are just as great. They are high in essential fatty acids, antioxidants, vitamin A, beta-carotene, potassium, and iron. It is even believed that pumpkin seeds reduce the risk of cancer and also support urinary health.
For this recipe, you'll need:
Print
Soft Pumpkin Dog Treats
Ingredients
3 1/2

cups

flour

1

cup

100% Pure Pumpkin

canned

1

egg

1/2

cup

(unsweetened) applesauce
Instructions
Stir together eggs, applesauce and pumpkin puree. 

Add the flour and mix it well. Until is makes a dough.

Sprinkle a little flour onto your counter and roll dough to approximately ⅛"  thick.

Cut it with some cookie shapes, make squares, or triangles.

Bake cookies at a temperature of 325°F for around 18 minutes and serve after they cool down.
Which one of these recipes do you think your dog would enjoy most? Tell us in the comments below. 👇